Preparation & Purification of a HALOGENOALKANE
Step One: Preparation
React an ALCOHOL with CONCENTRATED HYDROCHLORIC ACID (HCl), 
this is a SUBSTITUTION reaction: Cl replaces the OH group in the alcohol.  
eg. (CH₃)₃C-OH + HCl →   (CH₃)₃C-Cl + H₂O
This should be carried out in a separating funnel; keep releasing the pressure, because the product is volatile- it evaporates easily, which raises the pressure in the funnel)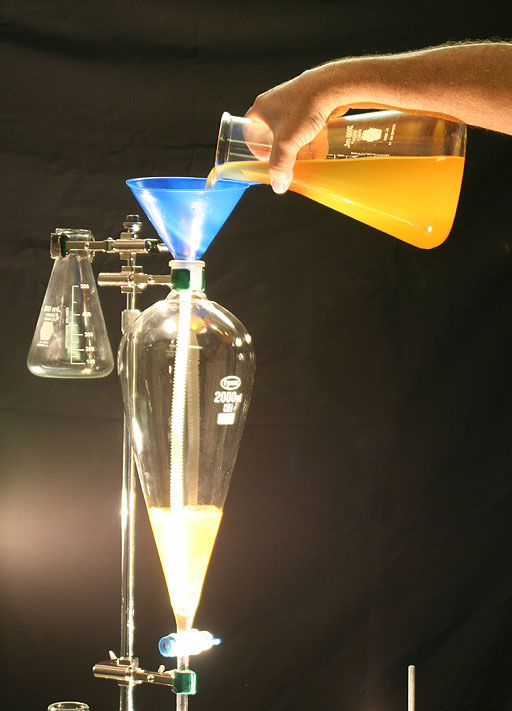 Step Two: Separation
The halogenoalkane produced is INSOLUBLE, so it can be separated from the aqueous reaction mixture using a SEPARATING FUNNEL after it has been allowed to separate into layers. 
Run off the AQUEOUS lower layer, leaving the IMPURE HALOGENOALKANE.  
Step Three: Purification

In order to get a pure halogenoalkane, 3 things must be removed: excess acid, water and alcohol. 
a) Shake the halogenoalkane with NaHCO₃(aq) (SODIUM HYDROGENCARBONATE SOLUTION), to remove any ACIDIC IMPURITIES. 
b) Shake the halogenoalkane with WATER to remove SOLUBLE IONIC IMPURITIES. 
c) Remove traces of WATER by DRYING with ANHYDROUS SODIUM SULPHATE (a drying agent)
d) DISTIL the solution: collect any liquid that distils over the BOILING POINT of the DESIRED PRODUCT. This separates the HALOGENOALKANE from other volatile liquids (such as unreacted alcohol), confirming its identity.